Daddy Cocksheath with Balls
Daddy Cocksheath molds to fit you, it's made of super-soft blubbery material that stretches to add girth and length to your dick and surrounds your balls.
Please select a product option first
These Go Great With This
Daddy Cocksheath with Balls
Description
This truly is the Daddy of all extenders. The super-stretchy material is meant to mold perfectly to your cock and expand as your cock gets harder, longer and thicker. Drop your balls into the ball sack for both an incredible look and unique feel. This product is meant for men who already pack a pretty large load. It does come with a bullet-shaped insert that can fill a gap at the tip, but don't go near this toy unless your balls and cock are already swaying between your legs like an Ox.
And don't be fooled by the packaging: this material (called 'FLEX TPR) is some of the softest TPR (ThermoPlastic Rubber) you'll find—and it's phthalate free. There are very products that will make an impression like this one when you stand before your partner with your cock and balls all dressed up!
To use, spread a little water-based lube on your cock for entry and then do the same for the exterior of the cocksheath to ease penetration. Remember to thoroughly clean and dry your toy after every use.
Product Specifications:
10 inch-Insertable Length: 7.5 inch-Inner Insertable Length: 6.25 inch, 5 inch(with nub )-Width: 1 inch to 2.07 inch-Weight: 18 oz
Sheath Opening Circumference/Sacksling Opening Circumference (stretches to fit you):
4.5 in (11.43cm) / 3.5 in (8.89 cm)
Sheath Length/Usable Length:
10 in (25.4 cm) / 7.5 in (19.05 cm)
Sheath Circumference/Inner Chamber Circumference (stretches to fit you):
5.75 in (14.605 cm)- 6.5 in (16.51 cm) / 3.25 in (8.255 cm)
Inner Chamber Length/Inner Chamber Length with Nub Insert:
6.25 in (15.875 cm) / 5 in (12.7 cm)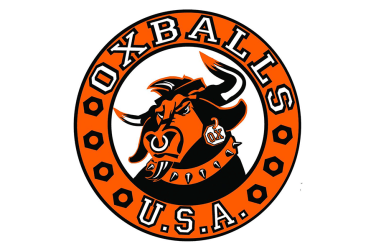 Brand: Oxballs